Code by Fab
Spell! From the decree Laodicea He smote. - An earthquake, they purified in the year.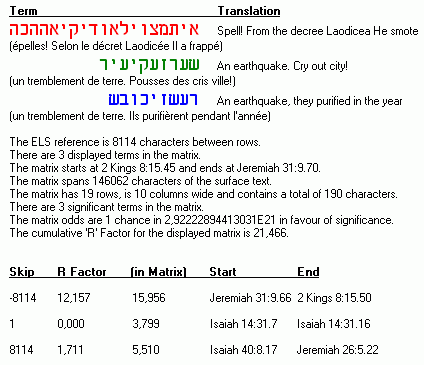 A code on the city of "Laodicea" mentioned in the NT six times:

Colossians 2:1: "For I would that ye knew what great conflict I have for you, and for them at Laodicea, and for as many as have not seen my face in the flesh"
Colossians 4:13: "For I bear him record, that he hath a great zeal for you, and them that are in Laodicea, and them in Hierapolis."
Colossians 4:15: "Salute the brethren which are in Laodicea, and Nymphas, and the church which is in his house."
Colossians 4:16: "And when this epistle is read among you, cause that it be read also in the church of the Laodiceans; and that ye likewise read the epistle from Laodicea."
1 Timothy 6:21: "Which some professing have erred concerning the faith. Grace be with thee. Amen. The first to Timothy was written from Laodicea, which is the chiefest city of Phrygia Pacatiana."
Revelation 1:11: "Saying, I am Alpha and Omega, the first and the last: and, What thou seest, write in a book, and send it unto the seven churches which are in Asia; unto Ephesus, and unto Smyrna, and unto Pergamos, and unto Thyatira, and unto Sardis, and unto Philadelphia, and unto Laodicea."

I used the spelling found in Wikipedia:

http://he.wikipedia.org/wiki/%D7%9C%D7%90%D7%95%D7%93%D7%99%D7%A7%D7%99%D7%90%D7%94

CodeFinder indicated it was expected to show up 2 times and 2 occurrences were actually found. The shortest skip was extendable to "spell! From the decree Laodicea He smote".

Critics of the Bible who don't believe it was inspired by God contend the books of the NT are not reliable since they were written much later than the events they mention. There is both internal and external evidence contradicting this view since the destruction of second Temple (a well attested historical fact: http://en.wikipedia.org/wiki/Second_Temple#Destruction) was prophesied by Jesus in Matthew 24:2, Mark 13:2, Luke 21:6 and is nowhere mentioned in the NT. The city of Laodicea is also another proof since it is mentioned by Paul (the author of most of the NT) and John (whose book is dated by some at AD 95!) although it was completely destroyed by an earthquake in the reign of Nero in 60 AD, which means the books were all written before 60 AD then since it seems quite unlikely it would go unmentioned if they were written after this year to a place in ruins and which boasts "I am rich and affluent and have need of nothing" :-) (Rev 3:17).

http://en.wikipedia.org/wiki/Laodicea_on_the_Lycus