Code by Fab (found 08/Feb/08 - and updated 27/Feb/09)
My witness Paul is correct; from the door!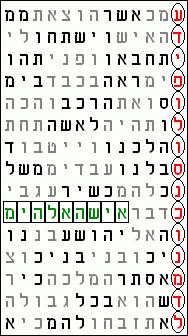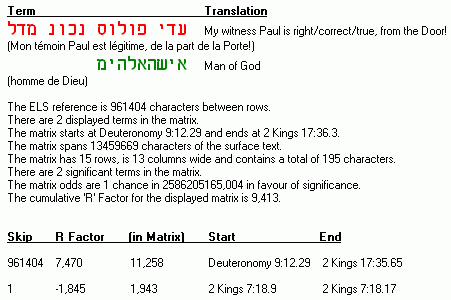 This one was inspired by a post suggesting the Apostle Paul was not a genuine Christian, although Peter one of the twelve Apostles said about him and his epistles:

2 Peter 3:15: "and regard the patience of our Lord to be salvation; just as also our beloved brother Paul, according to the wisdom given him, wrote to you,
16 as also in all his epistles, speaking in them of these things, in which are some things difficult to understand, which the unlearned and unstable twist as they do also the rest of the Scriptures, to their own ruin."

In other words, not only Peter regarded Paul as his brother in Christ but asserted plainly that all his letters were Scriptures, unlike what some people would want us to believe.

http://en.wikipedia.org/wiki/Paul_the_Apostle

Acts 13:9
"My witness Paul is right/correct/true, from the Door!"
And anyone knows Who is called the Door in the NT:
Joh 10:7: "And Jesus said to them again: 'Verily, verily, I say to you, that I am the Door of the flock.
8 All those who have come, were thieves and robbers: but the flock did not hear them.
9 I am the Door: and if any enter by Me, he will live, and will come in and go out, and will find pasture'."