Code by Fab (12/Oct/2008)
Come out of Babylon! For Yah is flawless.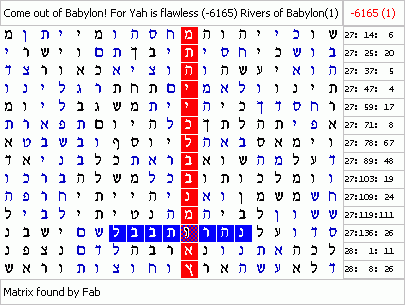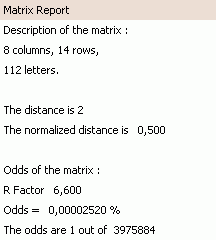 I found two interesting codes, inspired by the Hebrew spelling used in Franz Delitzsch translation of the New Testament in Hebrew of the expression "come out of Babylon!", found in Revelation 18:4:
http://www.kirjasilta.net/ha-berit/Haz_ln.18.html.
The lowest skip in the entire Tanakh could be extended to (in red) "come out of Babylon! For God is flawless", and the lowest skip in the Torah to "come out of the proud Babylon! An enemy (she is)".
I also noticed the one found in the Torah crossed a verse from Genesis 19:1 about the two angels coming to judge Sodom, and to warn Lot and his family to come out of her in order to escape the judgment: "And the two angels came to Sodom at even; and Lot sat in the gate of Sodom; and Lot saw them, and rose up to meet them; and he fell down on his face to the earth"
Revelation 18:2:
"And he screamed out with a strong voice, saying, "Fallen, fallen is Babylon the great! And she has become a habitation of demons, and a prison of every unclean spirit, and a prison of every unclean and hateful bird.
3 "For all the nations have drunk of the wine of the anger of her fornication, and the kings of the Earth have committed fornication with her, and the merchants of the Earth have become rich by the power of her luxury."
4 And I heard another voice from Heaven, saying, "Come out of her, my people, that you may not have fellowship in her sins and that you may not receive of her plagues;
5 "for her sins have piled up as high as Heaven, and God has remembered her iniquities."