Code by Dr Moshe Katz and Fab (10/Dec/2008)
Against the Chabad House, against the people.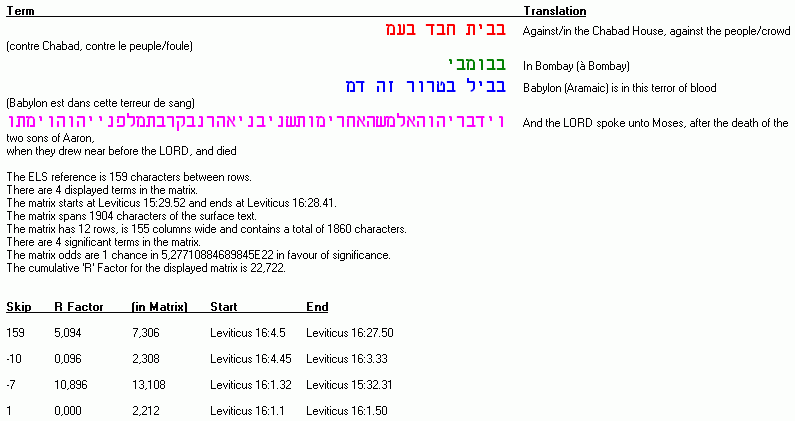 In a moving conversation with Chabad.info, minutes after the plane carrying the remains of the victims took off for Israel, the Shliach to New Delhi, Rabbi Shneur Kupchik, related a shocking detail that became apparent at the airport. Among the items slated to be returned to Israel, was the Sefer Torah belonging to Chabad of Mombai which was damaged by bullet holes, after the terrorists had fired several rounds into the Aron Hakodesh. The bullets tore through the scroll leaving gaping holes. When the torah was opened at the airport it became apparent that the bullets tore near the words - "And Hashem spoke to Moshe after the deaths of the two sons of Ahron", in Parshas Achrei. "The entire delegation stood frozen, in shock after seeing these words torn by the terrorist's YM"S bullets" said Rabbi Kupchik in a choked voice.
THE TORAH SCROLL FROM THE CHABAD HOUSE
Personally, I found the following extensions (in red): "Against/in the Chabad House, against the people/crowd", "Babylon is in this terror of blood"