Code by Fab (10/June/2009)
I will praise Paul the Apostle.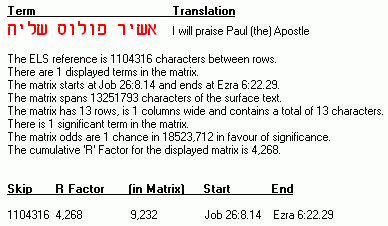 About the Apostle Paul again. It was found in the Tanakh using the expression "Jesus is in Paul" (10 letters in Hebrew), and was inspired by this verse from Galatians 2:20:
"I am crucified with Christ: nevertheless I live; yet not I, but Christ lives in me: and the life which I now live in the flesh I live by the faith of the Son of God, who loved me, and gave Himself for me."
According to CodeFinder's statistics, 0 occurrences were expected, and 1 showed up (odds = 1/259,394). I also spotted in one of the verses crossed by the main term the expression "from the Lamb is the man of God". Another one, also about Paul, was found in a wrapped Tanakh using the second occurrence (2 occurrences found, 1 expected statistically) of the expression "Apostle Paul". It could be extended to "I will praise Paul the Apostle"