Code by Fab (20/Sept/08 )
Rose daughter of Marie.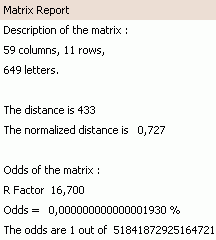 One about the grisly murder of a four-year-old girl named Rose Pizem, that horrified many people in Israel.
It was originally found in the Torah by Israeli researcher Gil Baruch, using the expression "Rose daughter of Marie". Statistically, 0 occurrences of this expression were expected, but 1 was found in the Book of Leviticus.
Gil Baruch also found the in the same matrix, in close proximity to the main term, and with very short skips, the expressions "who will kill?" and "he drowned her corpse", "Ronny", and "Ron".
Personally, I found the name "R. Ron" partly overlapping a very fitting verse (see on the second link below why) from Leviticus 24:17 stating "he that smites any man mortally shall surely be put to death", and the expression "she is dead" passing right through her name, with a very short skip of -1.
The original code can be found here (website in Hebrew): http://www.hidabroot.org/Site/ARDetile.asp?id=9625
Rose's murder story: http://news.bbc.co.uk/1/hi/world/middle_east/7613057.stm