Code by Fab
Saint Germain changed God.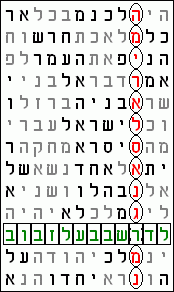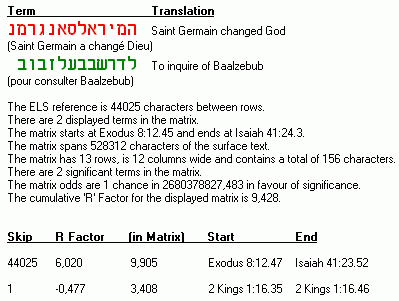 A code found in Tanach, done on request again, and using the name "Saint Germain". 12 occurrences were expected and 11 were found. The fifth lowest skip was extendable to "Saint Germain changed God":
http://en.wikipedia.org/wiki/Count_of_Saint_Germain
The Count of St. Germain (fl. 1710–1784) has been variously described as a courtier, adventurer, charlatan, inventor, alchemist, pianist, violinist and amateur composer, but is best known as a recurring figure in the stories of several strands of occultism -- particularly those connected to Theosophy, where he is referred to as the Master Rakoczi or the Master R. Some sources write that his name is not familial, but was invented by him as a French version of the Latin Sanctus Germanus, meaning "Holy Brother".