Code by Fab (11/Aug/2009)
Straw in the fire; the Illuminati.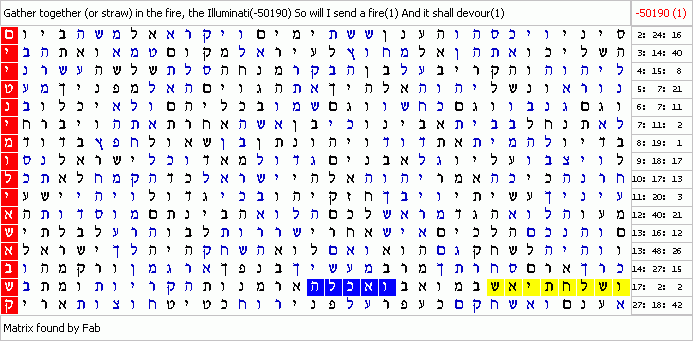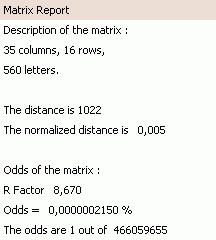 I searched for codes using the lengthy term "Illuminati" (11 letters in Hebrew), and found 1 occurrence, although none were expected statistically. It could be extended to "gather together (or straw) in the fire, the Illuminati". Which is also interesting, since the word fire is also used in one of the codes found using the expression "come now, rich men!". Also, the word I translated "gather together" also means "straw/stubble", and fire/burning and straw are two terms used in association with the judgement of the wicked in the following prophecies:
Isa 5:24: "Therefore as the tongue of fire devours the stubble, and as the dry grass sinks down in the flame, so their root shall be as rottenness, and their blossom shall go up as dust; because they have rejected the law of Yahweh of Armies, and despised the word of the Holy One of Israel."
Isa 33:11: "You will conceive chaff. You will bring forth stubble. Your breath is a fire that will devour you."
Joe 2:5: "Like the noise of chariots on the tops of the mountains do they leap, like the noise of a flame of fire that devours the stubble, as a strong people set in battle array."
Mal 4:1: "'For, behold, the day comes, it burns as a furnace; and all the proud, and all who work wickedness, will be stubble; and the day that comes will burn them up,' says Yahweh of Armies, 'that it shall leave them neither root nor branch'."