Code by Fab (28/May/2009)
Times of the Nations - Day of the Lord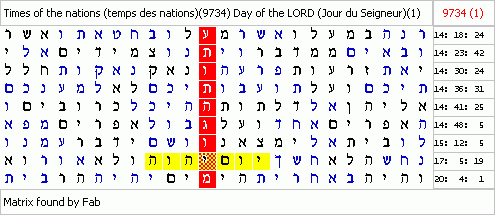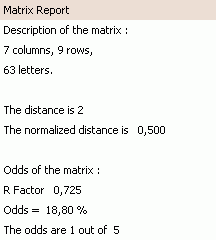 This code was found in the Tanakh using the expression "times of the nations". I used the Hebrew spelling used in Franz Delitzsch's translation of the New Testament into Hebrew in Luke 21:24:
http://www.kirjasilta.net/ha-berit/Luq_ln.21.html
Luke 21:24: "And they shall fall by the edge of the sword, and shall be led away captive into all nations: and Jerusalem shall be trodden down of the nations, until the times of the nations (most English versions rendered "gentiles" instead of "nations") be fulfilled."
Interestingly, there are only 2 occurrences of this expression in the Bible, one is in Luke ("time" is in the plural form there), and the other one is in Ezekiel 30:3 ("time" is singular), and the lowest skip of "times of the nations" shares a letter with a literal mention of "day of the LORD", which is also used in Ezekiel 30:3 and is directly associated with "the time of the nations":
Eze 30:3: "For the day is near, even the day of the LORD is near, a cloudy day. It shall be the time of the nations."