Code by Jim Wright (12/Sept/2009)
The Lord of the Sabbath.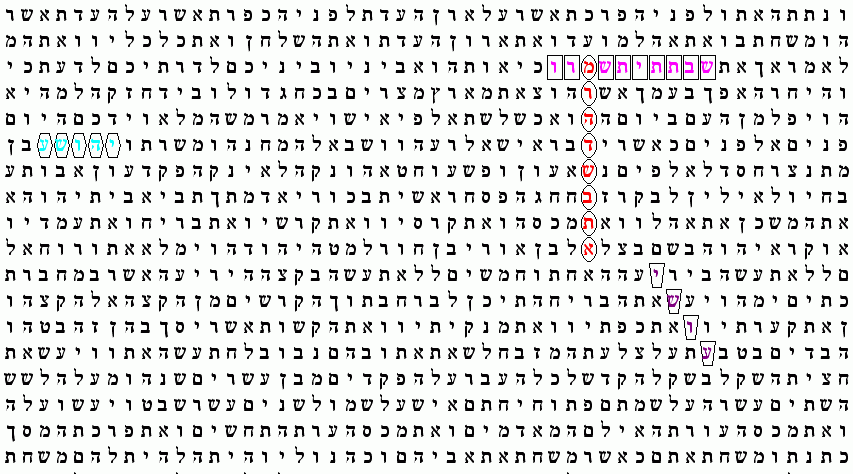 I searched this term using the Aramaic spelling found in Matthew 12.8 (minus the word "for").
Searched in the Torah it was expected to show 1.97874 times and actually showed 3 times, apx. odds of 1 in 2

.
This is the lowest skip occurrence, and shows completely in Exodus.
The odds of finding searching in Exodus only are 1 in 300

It goes through Exodus 31.13:
Speak thou also unto the children of Israel, saying, Verily my sabbaths ye shall keep: for it is a sign between me and you throughout your generations; that ye may know that I am the Lord that doth sanctify you. Exodus 31.13
And the main term intersects the expression "My Sabbaths you shall keep".
It also goes through Exodus 33.11:
And the Lord spake unto Moses face to face, as a man speaketh unto his friend. And he turned again into the camp: but his servant Joshua, the son of Nun, a young man, departed not out of the tabernacle. Exodus 33.11
"Joshua" is the Hebrew spelling of Jesus' name.
And the Aramaic spelling of Jesus' name shows next to the main term.
The main term also goes through Exodus 34.25:
Thou shalt not offer the blood of my sacrifice with leaven; neither shall the sacrifice of the feast of the passover be left unto the morning. Exodus 34.25
And Jesus is our Passover, a truly "unleavened" sacrifice, as is pointed out in 1 Corinthians 5.7:
7. Purge out therefore the old leaven, that ye may be a new lump, as ye are unleavened. For even Christ our passover is sacrificed for us:
8. Therefore let us keep the feast, not with old leaven, neither with the leaven of malice and wickedness; but with the unleavened bread of sincerity and truth. 1 Corinthians 5.7+8