Codes by Fab
Destruction of the Al Aqsa mosque.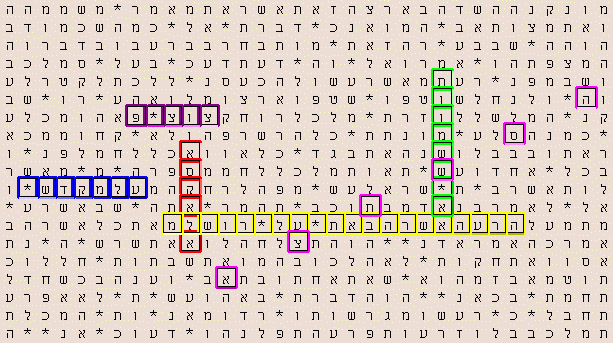 Legend :
« Al Aqsa »
« Upon my sanctuary/temple »
"Explosion"
"The evil that I have brought upon Jerusalem" (Yellow squares)
"The man who is death"
"He rush : 2005"
The same matrix with extra words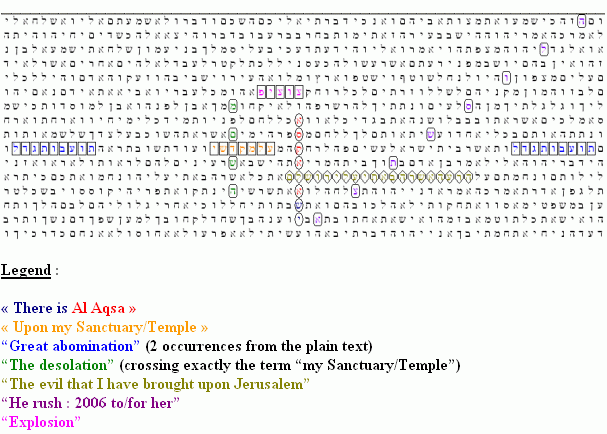 (The year is 2005 or 2006 depending on which text of Eziekiel you use.)
Al-Aqsa Mosque
From Wikipedia, the free encyclopedia.
The Al-Aqsa Mosque (Arabic: المسجد الاقصى, Masjid Al-Aqsa, literally "farthest mosque") is part of the complex of religious buildings in Jerusalem known as either the Majed Mount or Al-Haram ash-Sharif (the Noble Sanctuary) to Muslims and the Temple Mount to Jews.
Muslim tradition states that Muhammad ascended to heaven from the Mount in 621, making the mosque the third most holy shrine in Islam. After the Dome of the Rock (690 CE) the first wooden Al-Aqsa Mosque was constructed by the Umayyads, completed in 710 CE. The structure has been rebuilt at least five times; it was entirely destroyed at least once by earthquakes. The last major rebuild was in 1035.