Code by Fab (first online 11th Sept 2004)
Hurricane Ivan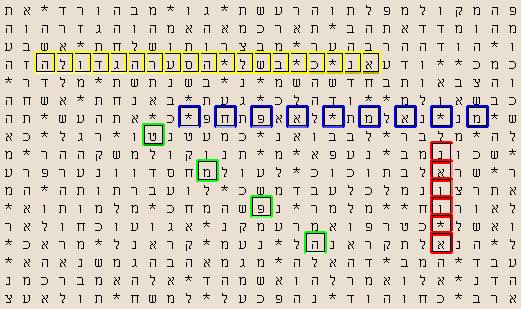 Legend :
« Ivan »
« Because of me this great tempest has come on you… » (yellow squares)
"Miami, the wrath is alive"
"Tampa"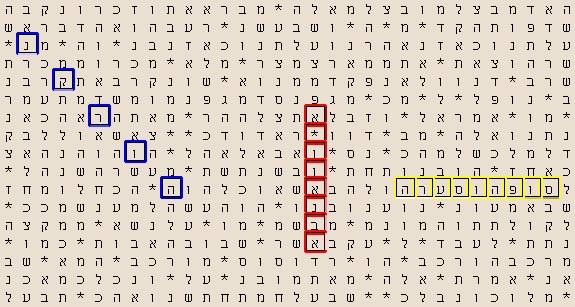 Legend :
« Ivan is coming »
"Hurricane"
« Storm and tempest » (yellow squares)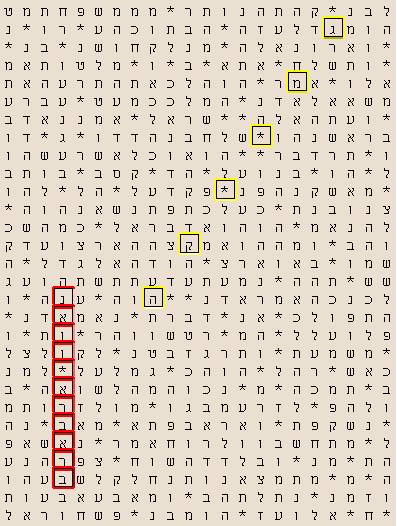 Legend :
« He created the wild Ivan »
"Jamaica" (yellow squares)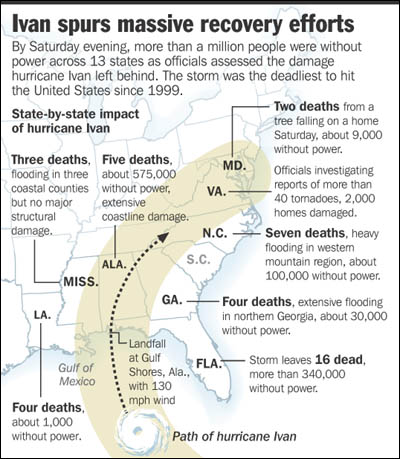 http://en.wikipedia.org/wiki/Hurricane_Ivan_(2004)
Hurricane Ivan
From Wikipedia, the free encyclopedia.
(Redirected from Hurricane Ivan (2004))
This article deals with the 2004 Hurricane Ivan. For other storms of the same name, see Hurricane Ivan (disambiguation).
Information

Hurricane Ivan infrared satellite image, taken on September 10, 2004.

---

Date of formation:

September 2, 2004 as Tropical Depression Nine

Current winds:

Current Location:

50 miles (75 km) southwest of Kingston, Jamaica

Areas affected:

Motion:

WNW at 10 mph (17 km/h)
Hurricane Ivan is the ninth named storm and the fifth hurricane of the 2004 Atlantic hurricane season. Ivan reached "unprecedented" intensity at low latitudes, peaking at 135 mph (215 km/h), making it a Category 4 Hurricane at only 10.6° N. Ivan struck Barbados, Tobago, and St. Vincent and the Grenadines.
After briefly being downgraded to Category 3 intensity, Ivan struck Grenada directly on mid-day September 7th with Category 3 winds. It has since moved away from the islands. Ivan intensified into a Category 5, the first of its kind this season, and has since decreased in strength to a strong Category 4.
Storm history
On September 2, 2004, tropical depression nine formed about 555 miles (890 km) southwest of the Cape Verde Islands. The depression strengthened gradually to tropical storm force and was named Tropical Storm Ivan. It was located about 610 miles (980 km) southwest of the Cape Verde Islands, moving west-northwesterly at around 16 mph (25 km/h).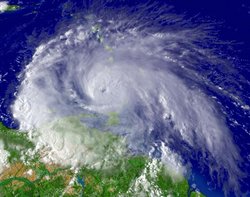 Hurricane Ivan just west of Grenada in the Caribbean Sea on September 7, 2004 at 19:45 UTC (15:45 EDT). At the time, Ivan had maximum sustained winds of 120 mph (195 km/h), placing it at Category 3 on the Saffir-Simpson Hurricane Scale. Visible satellite image courtesy NOAA.
Early September 5, 2004, Tropical Storm Ivan strengthened into a hurricane 1210 miles (1950 km) east-southeast of the Lesser Antilles. By 5pm EDT, Hurricane Ivan had rapidly strengthened to a strong category three hurricane (nearly a category four) on the Saffir-Simpson Hurricane Scale with winds of 125 mph (200 km/h). The National Weather Service notes such rapid strengthening, as with Ivan, is unprecedented at such low latitudes in the Atlantic basin. It is the first major hurricane to develop at that low a latitude in the North Atlantic.
As Ivan travelled west, it fell back to a Category 2 hurricane. But on September 7, shortly after passing over Grenada on its way into the Caribbean Sea, it reattained Category 4 intensity with winds of 135 mph (215 km/h). St. Vincent and Grenada. Barbados was battered by the hurricane for several hours.
On September 9, as of the 2am EDT update, Ivan reached a new top sustained windspeed of 160 mph (260 km/h) and was classified as a Category 5 hurricane.
Current status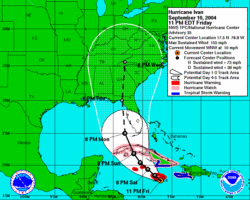 Forecast track of Hurricane Ivan as of September 10, 2004 at 11PM EDT. (Refresh your browser with Ctrl-F5 to see the latest version)
As of 2am EDT September 11 (0600 UTC), Ivan was 50 miles (75 km) southwest of Kingston, Jamaica. The storm has wobbled westward, but is expected to resume motion to the west-northwest at 10 mph (17 km/h) and is a very strong Category 4 hurricane with sustained winds of 155 mph (250 km/h), just below Category 5 strength. Ivan is pummelling Jamaica, though the wobble has thus far kept the eye just south of the island.
Ivan is currently forecast to continue near and over Jamaica at Category 4 strength or higher. The storm is expected to pass just east of the Cayman Islands late on September 11. The forecast track then brings Ivan northwest over western Cuba near Havana by late September 12, then the Florida Keys on the evening of September 13.
The long-range forecast brings Ivan north, parallelling the Gulf coast of Florida until a strike on the Florida Panhandle on September 14. However, slight changes in forecast track could put Ivan onshore anywhere along the Florida coast, and states west of Florida are still at risk. All strikes are likely to be at or above Category 4 intensity.
The current forecast track is similar to that of Hurricane Charley, which struck Jamaica and Cuba as a much weaker storm. Ivan is an extremely dangerous storm, and is not forecast to weaken significantly before striking land.
Preparations
A full evacuation of the Florida Keys began at 7:00am EDT September 10.
Half a million Jamaicans were told to evacuate from coastal areas, but only a five thousand were reported to have moved to shelters [1] (http://www.canada.com/news/world/story.html?id=cede32a6-4619-4439-9404-0f81e8ac8043&page=2).
Damage Potential
This pertains to areas in the path of Ivan, not those which have already been affected.
Wind damage, with sustained winds in excess of 150 mph (250 km/hr) and higher gusts.

Storm surge of 5-8 ft. above normal.

Rainfall in excess of 8-12 inches.
Impact
Ivan passed directly over Grenada on September 7, 2004, killing at least twenty people. The capital of St. George's was severely damaged and several notable buildings were destroyed, including the residence of the prime minister. A prison on the island suffered extensive damage, allowing much of the inmate population to escape. The island has, in the words of a Caribbean disaster official, suffered "total devastation" [2] (http://www.reuters.co.uk/newsArticle.jhtml?type=scienceNews&storyID=6182981&section=news). As a result, extensive looting has been reported.
A member of the Grenadan parliament estimated "85 percent devastation" to the small island [3] (http://msnbc.msn.com/ID/5927015/). Among the dead include a pregnant woman killed in Tobago, and a 75-year old woman who drowned in Barbados. There were also four deaths in the Dominican Republic, and four in Venezuela.
Ivan also damaged hundreds of homes in Barbados and at least 60 homes in St. Vincent and the Grenadines.
External links