Codes by Fab
Joseph Smith (founder of the Mormon sect) :

Legend :
1) « Joseph Smith, he opposed (reverse)

»
2) "You come from a sect"

3) "The head, he will be put to death/killed"

 (Smith was perhaps assassinated in Carthage, Illinois. See below)
4) "And he left"

  "ten women, which were concubines, to keep the house"

 (Smith had at least 10 women)
Joseph Smith, Jr.
From Wikipedia, the free encyclopedia.
Joseph Smith, Jr. (December 23, 1805 - June 27, 1844) was the charismatic founder and leader of the Latter Day Saint movement. Latter Day Saints revere him as a prophet and martyr. In 1844, he also ran for President of the United States on an anti-slavery platform, and was the first candidate assassinated during a U.S. Presidential campaign.
According to Latter Day Saint doctrine, God the Father and Jesus Christ appeared to Joseph Smith to restore the Church of Jesus Christ to the earth once again. Following this occurrence, Smith translated several volumes of scripture, including The Book of Mormon and The Pearl of Great Price, and dictated new revelation, known as The Doctrine and Covenants. Considered part of the early 19th century Restorationism movement, he attested that he was chosen by God to restore the Church of Christ to a world that had fallen away, resulting in the Great Apostasy.
References
Related articles
History of the Latter Day Saint movement
Controversies regarding Mormonism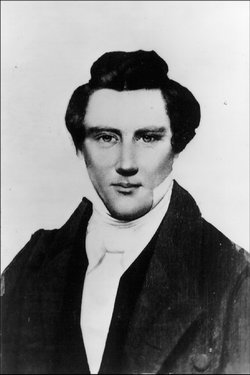 1843 daguerreotype of
Joseph Smith, Jr. taken by
Lucian Foster (Library of Congress).