Codes by Fab
Terrorist acts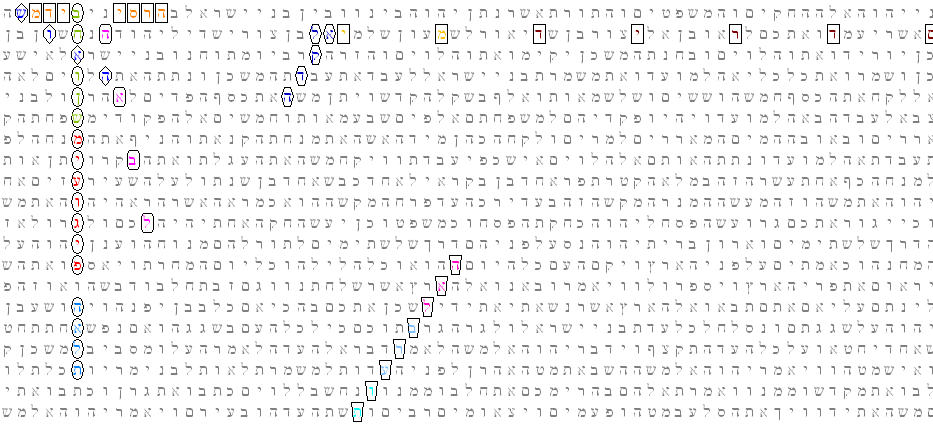 Legend :
1)
Main term :

« You will be disgusted »

"terrorist acts :

(it is) odious/detestable/abominable !"

2) "Destroy !"

3) "In me : blood !"

4) "Holocaust"

5) "The mourning"

6) "Madrid, who ?"

7) "Al Qaeda !"

8) "Arab imprint"

Tape Claims al-Qaida Tied to Spain Blasts

Mar 14, 12:50 AM (ET)

By JOHN LEICESTER

MADRID, Spain (AP) - In a videotaped message, a man purporting to represent al-Qaida claims the terrorist network was behind bombings that killed 200 and wounded 1,500 in Madrid, the Spanish interior minister said early Sunday.

The tape - along with the arrest of three Moroccan and two Indian suspects - provided the strongest indication yet of an Islamic link to the attack on one of Washington's staunchest allies in Iraq. The Spanish government, however, said it could not confirm the tape's authenticity.

The announcement came just hours before polls were to open Sunday in general elections weighed down by debate over the attack. Thousands of people rallied overnight against the governing Popular Party, saying it should be thrown out of power for drawing al-Qaida's wrath.

A speaker on the videotape said the bombings were "a response to your collaboration with the criminals Bush and his allies" and threatened more attacks, Interior Minister Angel Acebes said in a hastily called news conference after midnight.

A London-based Arabic newspaper had earlier received a claim of responsibility in al-Qaida's name; but the government had been reluctant to blame the Islamic group, saying the Basque separatist group ETA was also a suspect. ETA denied responsibility.

The videotape was discovered in a wastebasket near a Madrid mosque after an Arabic-speaking man called a Madrid TV station and said where it could be found, the interior minister said.

The man on the videotape wore Arabic dress and spoke with a Moroccan accent, Acebes said. The speaker concluded by saying: "This is a statement by the military spokesman for al-Qaida in Europe, Abu Dujan al Afghani."

Interior Ministry officials said it was unclear whether that meant the man was Abu Dujan al Afghani himself or that he was speaking in his name. Acebes said the name was not known to intelligence agencies, and that they were checking the tape's authenticity.

The speaker threatened further attacks.

"This is a response to the crimes that you caused in the world, and specifically in Iraq and Afghanistan, and there will be more if God wills it," the man said, according to the Spanish government's translation.

Officials did not play the tape for reporters, and Acebes said he had not yet seen it himself.

At demonstrations that lasted until the early hours of Sunday, some protesters said they believed Prime Minister Jose Maria Aznar's government was playing down the possible link between the bombings and Spain's role in Iraq because it feared a loss at the polls.

Aznar's hand-picked candidate to succeed him, Mariano Rajoy, was only 3-5 percentage points ahead of Socialist candidate Jose Luis Rodriguez Zapatero before opinion polls were stopped in the last week of campaigning.

About 5,000 people protested Saturday outside the ruling party headquarters in Madrid, holding up signs saying "no more cover-up."

One banner read: "Aznar, because of you we all pay."

Earlier Saturday, Acebes said the five suspects were arrested around Madrid. A spokesman for the Moroccan government identified the three Moroccans as Jamal Zougam, 30; Mohamed Bekkali, 31, a mechanic; and Mohamed Chaoui, 34. All three are from northern Morocco, but the government gave no further details about them.

"One might have connections with Moroccan extremist groups. But it is still very early to establish to what degree," Acebes said. He did not name any group.

Two Indians were also arrested. Two Spaniards of Indian descent were questioned but were not expected to be arrested, Acebes said.

The five suspects were arrested after a gym bag packed with explosives and a cell phone was discovered on one of the four bombed rush-hour trains, the minister said.

Spanish citizens were among 33 people killed by suicide bombings that targeted Jewish targets and a Spanish restaurant close to the Spanish consulate in Casablanca, Morocco in May 2003.

Those attacks were blamed on Salafia Jihadia, a secretive, radical Islamic group thought by Moroccan authorities to have links to al-Qaida. Twelve suicide bombers also died.

Just months ago, a taped threat thought to be from al-Qaida terror chief Osama bin Laden had included Spain among countries that could be attacked "at the appropriate time and place."

A confirmed Islamic extremist involvement in the Madrid bombings could play into the hands of Aznar critics who opposed sending 1,300 peacekeepers to Iraq.

"If it was al-Qaida, this was a reprisal for sending troops to Iraq, where we have no business being," said Damian Garcia, whose 86-year-old father died in the bombings.

The government had sought to dampen such speculation. Acebes said earlier Saturday that autopsies conducted on victims showed no signs of suicide bombings - a hallmark of Islamic militants.

The massive police hunt for the bombers focused in part on a stolen van found with seven detonators and an audiotape of verses from the Quran. A witness told Associated Press Television News he saw three suspicious men go from the vehicle to a station where three of the four bombed trains originated.

The men wore coverings on their faces but "it wasn't cold ... I thought it was very strange," said the man, who did not want to be named.

The death of a man in a hospital overnight pushed the toll up to 200 Saturday. Of the 1,511 injured, 266 remained hospitalized - with 17 in critical condition.

---

Associated Press writers Daniel Woolls in Madrid and Nicolas Marmie in Rabat, Morocco contributed to this report.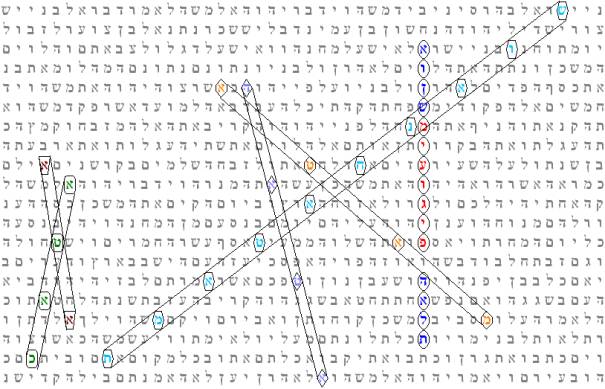 Legend :
1)   "Exhausted (or it could be : "blameless" : ETA. False resting"
2)  "Comes from ETA"
1) "The ETA"
2) "Like ETA"
3) "ETA"
I will add more terms as one goes along...
Other matrices, below, found by israeli researchers :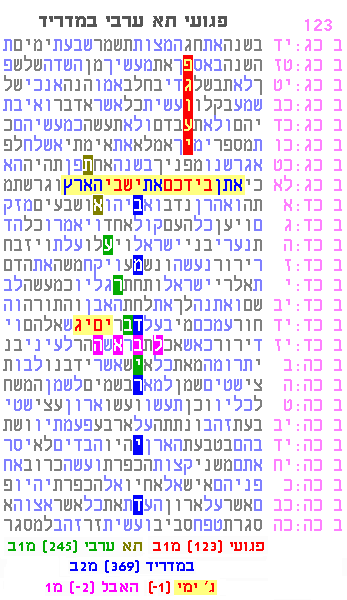 Legend :
1) Skip : + 123 : "Terrorist act"
2) "In Madrid"
3) "Arab cell"
4) "The mourning"
5)  "I will deliver the inhabitants of the land into your hand"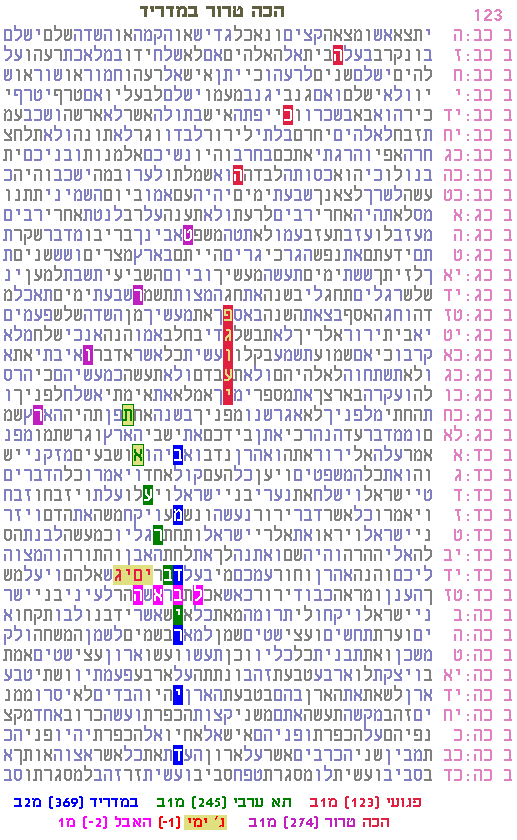 Legend :
Additional term, skip : + 274 : "Terror strikes"