Code by Fab
God strikes the "peace and security".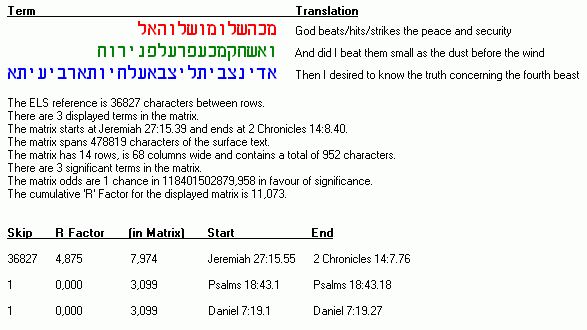 1 Thessalonians 5:1 "Now as to the times and the seasons, brethren, you have no need of my writing to you.
2 For you yourselves know with exactness that the Day of the Lord will come just like a thief in the night.
3 While they are saying, "Peace and security!" then perdition will come upon them suddenly like birth pains upon a woman with child; and they shall not escape."
http://www.heraldsun.news.com.au/common/story_page/0,5478,19796044%255E663,00.html
US strikes jet fuel deal with Israel
THE Pentagon notified Congress today of plans to sell Israel jet fuel valued at up to $A280 million "to keep peace and security in the region".
"The proposed sale of the JP-8 aviation fuel will enable Israel to maintain the operational capability of its aircraft inventory," the Pentagon's Defense Security Cooperation Agency said in notice required by law.
It said Israel had requested the sale, but did not say when the request was made.
The move was announced after Israeli aircraft rocketed runways at Beirut's international airport and blasted the main Beirut-Damascus highway, tightening an air, sea and land blockade of Lebanon.
Israel is seeking to force the release of two Israeli soldiers and halt cross-border rocket strikes by Hizbollah fighters backed by Syria and Iran.
"The jet fuel will be consumed while (Israel's) aircraft (are) in use to keep peace and security in the region," the notice to Congress said.
It said the sale - which Congress may block if both houses were to enact resolutions rejecting it within 30 days - would not affect the basic military balance in the region.
The total value of the deal could be as high as $US210 million ($A280 million) if all options are exercised, the Pentagon said. – Reuters
http://jta.org/page_view_breaking_story.asp?intid=3158
Peres: Peace at hand

Israel and the Palestinians are closer to peace than ever, Shimon Peres said. "The distance between us is that shortest it has been for the last 50 years," Israel´s vice premier said Saturday at a Central Asian security conference in Kazakhstan. "The distance is very short, but the speed is very slow." Peres appeared to be refering to an anticipated summit next month between Israeli Prime Minister Ehud Olmert and Palestinian Authority President Mahmoud Abbas, which could sap support for the new Hamas government in the West Bank and Gaza Strip. Peres argued that, rather than work for a peace deal immediately, Israel and the Palestinians should first improve economic cooperation as a mechanism for rapprochement.