Code by Fab
Ariel Sharon you are guilty, I will circumcize you.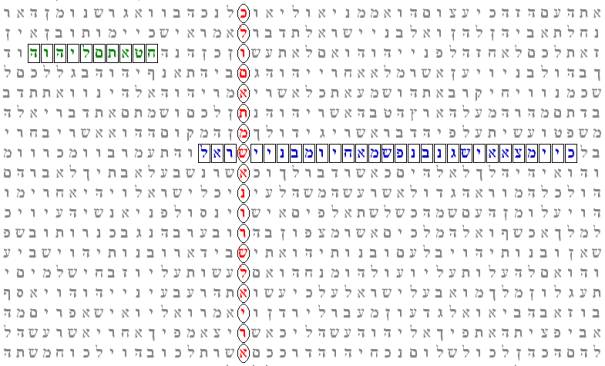 Legend :
1) « Ariel Sharon you are guilty, i will circumcize you...! »
2) "If a man be found stealing any of his brethren of the children of Israel"
3) "You have sinned against the Lord !"
Arutz Sheva IsraelNationalNews.com
---
Recommendation: Charge Prime Minister Sharon
A team from the State Prosecutor's Office, headed by chief prosecutor Edna Arbel, will apparently issue a recommendation to charge Prime Minister Ariel Sharon with accepting bribes in what is known as the "Greek island affair". According to the draft recommendation, Vice Prime Minister Ehud Olmert, who was also investigated in connection with the affair, should not be charged. Attorney General Menachem Mazouz will have to make the final decision whether or not to indict.

The police investigation of the Prime Minister centered on suspicions that he knew of the high salary - 3 million shekels – businessman David Appel gave to Sharon's son Gilad, and that this and other sums were designed to secure political favors beneficial for Appel's business plans in Greece. Prime Minister Sharon was questioned twice, last month and four months ago, by senior police investigators for several hours in connection with the corruption allegations. Mr. Sharon's sons, Gilad and Omri, were also questioned by police and maintained silence. After a court challenge, Gilad was ordered to turn over relevant documents to the investigators.

Minister Without Portfolio Uzi Landau (Likud), who served in the past as Minister of Public Security, railed against press leaks from the State Prosecutor's Office, saying, "The important thing now is to discover who leaked [the recommendation] from the Prosecutor's Office and to deal with that person." As for the substance of the charges, Landau stated that he did not believe that Prime Minister Sharon is corrupt; however, if charges are filed, Landau said, the Prime Minister "must step down" without hesitation.

Leaders of the coalition Shinui party agree. National Infrastructure Minister (Shinui) Yosef Paritzky stated that Sharon should not continue in his leadership capacity if indicted. Knesset Member Professor Yuli Tamir of the Labor opposition party called upon Shinui to withdraw from the coalition in light of the potential corruption charges.

The pan-Arab Balad party is seeking a special Knesset session to address the apparently imminent indictment.