Code by Fab (10/May/2009)
Swine Flu - In your nostril; Smith manufactured.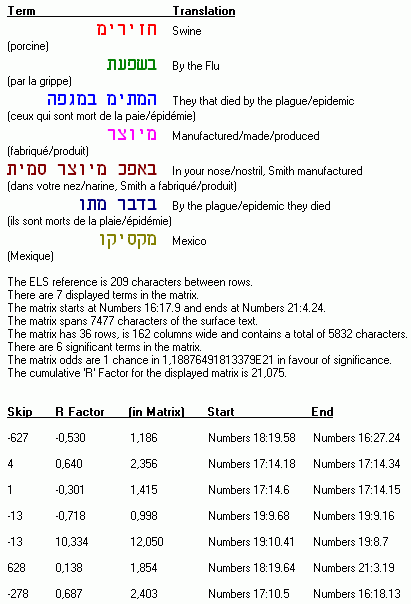 I was checking out the Israeli website "codes in the Torah" today, and I noticed they found the same Swine Flu codes that I found which are all located in the same passage in the Book of Numbers, check out (translated from the Hebrew with Google "Language Tools", it's barely understandable though):
http://translate.google.fr/translate?u=http%3A%2F%2Fwww.torah-codes.com%2Faktualy%2Fshapaat.htm&sl=iw&tl=en&hl=fr&ie=UTF-8
I revisited this code, and found the following additional terms:
"In your nose/nostril, Smith manufactured" (the initial search term was "manufactured/made/produced", i.e. as opposed to natural, see:
http://www.russiatoday.ru/Top_News/2009-04-28/Swine_flu_is_manmade_virus.html), it was the fourth minimal skip in the Torah, the lowest skip being also located in the same matrix. Without the "tav" at the end of "Smith".
It could also read "In your nose/nostril. Manufactured is my poison/toxin/drug".
"Mexico" (lowest skip as well, most of the terms in this matrix are at their minimal or near-minimal skip in the Torah)
Also, I did a Google search for the terms "Swine Flu" and "Smith", and here is what I found:
http://www.updown.com/Swine-flu-will-boost-Glaxo-Smith-Kline-(GSK)/stock-tip/26147
Posted 12 days ago on 4/27/09
GSK better known as Glaxo Smith Kline is the producer of a flu vaccine called Relenza. Recent news reports that in Mexico, there is an outbreak of the swine flu which is a virus transported usually in pigs. The virus has mutated and is now affecting many people in mexico as well as in the U.S., and other places. Roche and GSK are the two companies who produce the vaccination for this type of flu. The more news we hear about the swine flu, the more people will start to look to their doctors for Relenza or the other vaccine. This will in turn drive major sales to Glaxo Smith Kline and be posting profits for their bottom line. Their is only a limited amount of the vaccine available and the swine flu is spreading and has the potential to be a full blown epidemic if not contained right away. Swine flu is a major disease that is fatal, and hopefully GSK will help to put it to an end with their vaccine Relenza.